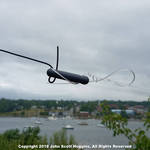 Well it took some time, but I finally got around to activating the old light, USA-1254, near my parents home in Maine for an actual ARLHS event. I tried a new antenna along with my KX3, made some noise and made a few contacts. It could have been better, but the conditions were certainly challenging. Some notes follow.
The rig – Elecraft KX3 and power source
An Elecraft KX3 with 10 AH LiFePO4 battery makes for a simple to deploy rig. I ran 10 watts the entire time. Yes I wish I had more power in these conditions, but it is remarkable what can be done with little power with some patience. Here it is in my transport bag…
Here is the tabletop deployment…
The antenna – LNR Precision EF-QUAD
I needed a quick antenna to take to the beach so ordered one of these from LNR Precision. I've been a fan of LNR since the PAR days. Read more about my interactions with them on my ham radio blog.
There isn't much to this antenna. The primary feature is the 50 ohm to thousands of ohms transformer box to properly feed an antenna at a current node… namely the usually free end of the antenna.
The antenna is a halfwave in length at its lowest band of 40m. Here is the other end as deployed this weekend…
The polyethylene coated antenna 18 AWG wire is a real treat to use and behaves reasonably well stowed or while installing. That's weed trimmer line on the right. It's the only thing I could find in the house to install the antenna.
More details on LNR EF-QHAD here
The operating position
The operating "desk" is my mother's outdoor table. I moved this around depending on the sun angle.
N1MM to store contacts
I managed to locate and install a UDC customization macro file, made by KA1IOR for the 2010 ILLW, for ARLHS use in N1MM contest logger. Here is a screen shot of the "action" window (bottom) and log…
I could kick myself for not brining my USB CAT cable as this works very well to sync the Elecraft KX3 and operating parameters including band, frequency and mode.
I think some improvements to the UDC macro file are in order, but am grateful to KA1IOR for making this back in 2010. Expect more details on how to make good use of N1MM for ARLHS events.
Conclusion
Well this isn't what I would call a tremendously successful activation, but at least I got to make some noise on the bands and garner two lighthouse to lighthouse QSOs with Tim and the K8EPV crew.